Super Size Crochet Book Review & Blog Hop
It's now a year since Sarah Shrimpton from Annaboos_house contacted me regarding a new book she was writing Supersized Crochet and in 9 days the book is finally released. This is Sarah's 4th book. She started crocheting just over 5 years ago: obviously she has found her vocation.
Sarah's designs are beautifully current and suitable for beginners to the more expert crochet addicts. I always appreciate the simplicity but effectiveness of her designs. It's a book full of patterns you will want to make! If you are a "wanna be" crocheter, but worried about the cupboard becoming full of "wips" (work in progress') you will not have to worry.
All the designs make up quickly, so you won't get bored or struggle to find the time. That Hygge feeling can be yours. I was thrilled that Sarah not only wanted to use Woolly Mahoosive yarns but wanted me to review the book too.
Being a busy lady myself, "I'm the cobbler with no shoes", I picked the most simple and quickest of her designs.
The Seat Pad
This is a fine example of Sarah's simple yet effective designs that's totally suitable for the novice. Sarah uses our "Wiggly" yarns in her pattern, but I wanted to try it with our Mammoth yarn.
I wanted to do a pad for the blue chair. All the rage at the moment but slightly clinical. I did a chain of 9 stitches for this one. It used 700 grams and I used a 40 mm hook. You could use a smaller hook, a 25 mm, and keep the tension much looser. I tried this but really wanted to use the big hook. At Woolly Mahoosive we always go big!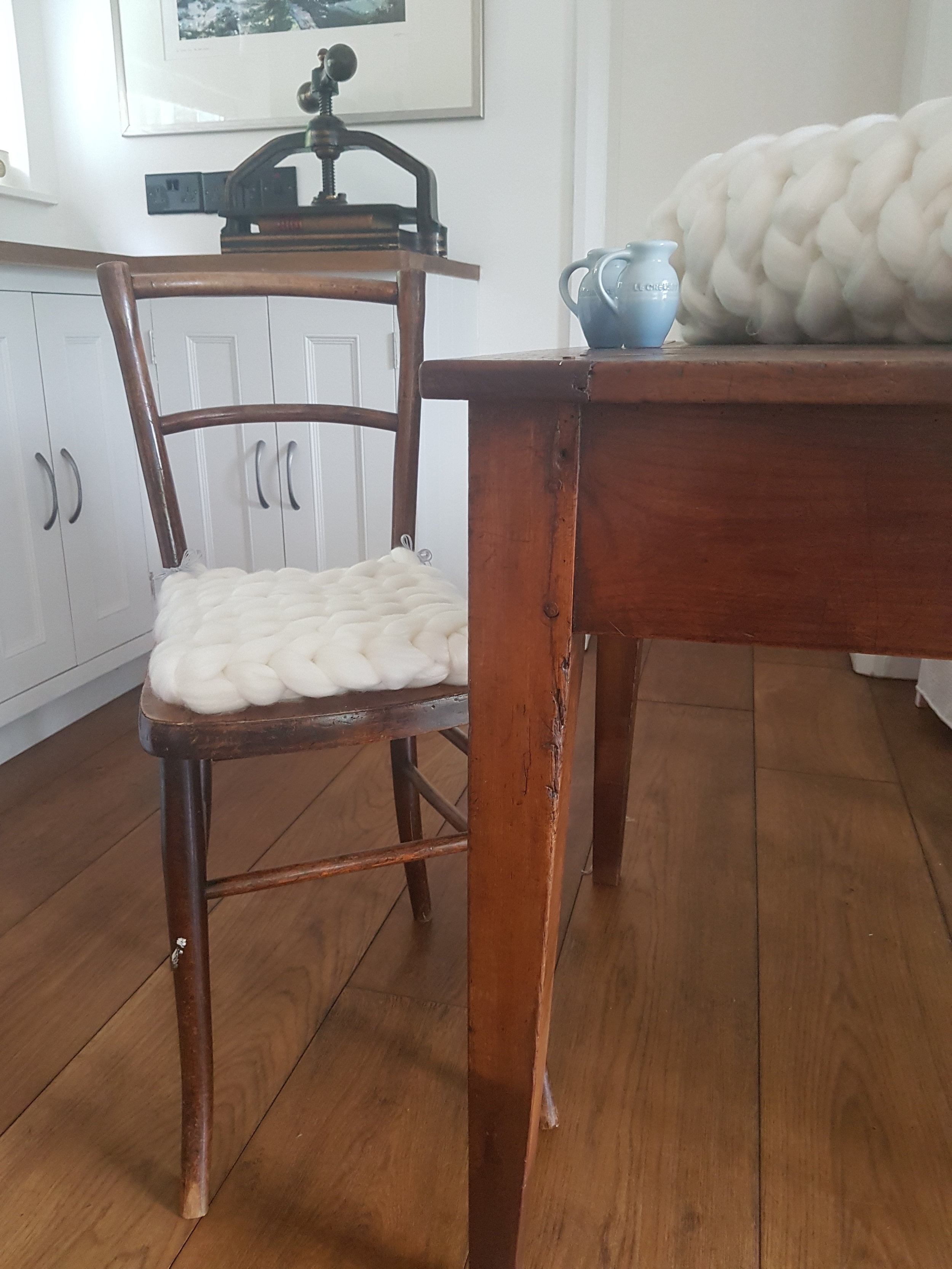 For the brown chair I made a chain of 8 and it fitted perfectly. This one used 600 grams of Mammoth in Off White. I tightened the tension slightly on the last 2 rows so it fitted the chair shape. I also used 6 strands of embroidery thread in a colour to match the room to secure it to the chair.
I'm really pleased with the result and it adds some comfort and luxury to two basic chairs.
You can get a copy of Supersize Crochet on Amazon US, Amazon CA, and Amazon UK right now – and after you place your order, you can get a FREE copy of her "Gelato Snood" pattern! (Offer valid until 25/05/17) After you have placed your order, click here to receive your free bonus project (you'll need to input your order number, so have that handy).
Find Sarah in her Etsy shop here for more cute and colourful crochet gorgeousness
And if you don't already follow Sarah find her on Instagram for her beautiful feed.
You must also take a look at her lovely blog where you can find more reviews for the book and take a sneaky peak inside.
Have fun.
Andrea xxx